Richard III coffin rosary blessed at priory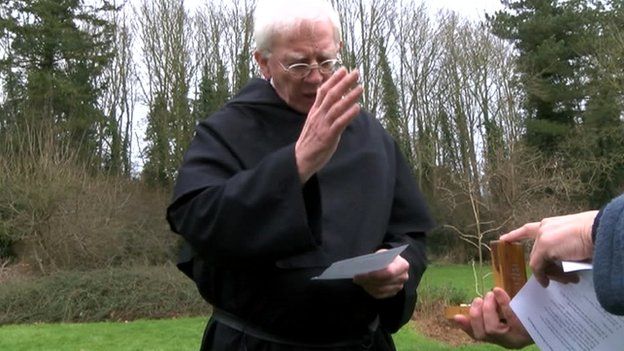 The blessing of a rosary to be placed in Richard III's coffin is part of preparations for his reinterment.
The notorious king's skeleton was found in Leicester in 2012 and will be buried at the city's cathedral in March.
The beads and crucifix, donated by historian John Ashdown-Hill, was blessed at the Clare Priory in Suffolk, with which the king's mother had links.
Richard was killed in battle in 1485 and his reputation was extensively blackened by historians of the succeeding Tudor dynasty.
After a legal battle, Leicester Cathedral was confirmed as the place his bones would be laid to rest.
His coffin will be made by distant relative Michael Ibsen and, reflecting Richard's Catholic faith, a rosary placed inside.
Mr Ashdown-Hill, whose tracing of Mr Ibsen played a part in the king's body being found, said: "I owned the rosary for many years.
"I have added an enamelled white rose to represent the House of York and replaced the crucifix with a copy of the 15th Century Clare Cross."
The priory and castle were connected to Richard's mother, Cecily Neville, and several of her family are buried there.
In Leicester, the Very Reverend David Monteith, dean of the cathedral, said work on the tomb was progressing.
"We are into the reconstruction and the new cathedral is emerging.
"The new chapel of Christ the King, created from the old joinery, along with the tomb and the space where people will walk to see his memorial."
A ballot to allocate seats for the commemorations attracted nearly 15,000 applications and the successful 600 are currently being selected at random.
The nearby Richard III centre, which has had 30,000 visitors since it opened in July, has closed for "minor works" and will reopen on 17 January.
Sunday 22 March: Coffin leaves the University of Leicester, travels round local villages and is taken to Leicester Cathedral
Monday 23 - Wednesday 25 March: Remains of King Richard III will lie in repose in the cathedral
Monday 23 March: Archbishop of Westminster Cardinal Vincent Nicholls will celebrate Mass for the repose of the soul for Richard III in Holy Cross Church, the Catholic parish church and Dominican priory in Leicester city centre
Thursday 26 March: Richard III's remains will be buried in Leicester Cathedral in the presence of the Archbishop of Canterbury Justin Welby, senior clergy, other Christian denominations and representatives of other faiths
Friday 27 March: Tomb is revealed, followed by official celebrations across the city
Related Internet Links
The BBC is not responsible for the content of external sites.