Antoin Akpom murder: Mother's call for answers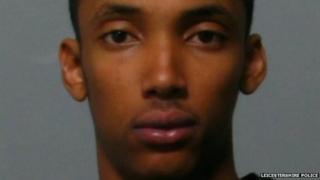 The mother of a man who was stabbed to death says there are still questions about why her son's killer was not better supervised by authorities.
Hussain Hussain, 20, was jailed for life for the murder of Antoin Akpom.
The murder came weeks after Hussain was released from a young offenders institution and relocated from London to Leicester to escape gang violence.
The authorities involved said Hussain was not under any restrictions when he killed Mr Akpom.
Mr Akpom's mother, Cheryl Armatrading, said despite a serious case review by authorities she still wanted answers.
"I think somebody should be accountable," she said.
"I don't think he [Hussain] was managed properly considering his past.
"He was someone who was involved in gang warfare, other knife crimes and they knew he was a dangerous person.
"If they had managed Hussain the way they should have, then my son wouldn't have been killed.
"The London authorities knew the type of person he was and they palmed him off on Leicester."
"Just because you move someone to another town it's not going to change who they are," she added.
Hussain, a Somali refugee, was sentenced in April to 22 years for the murder of sports coach Mr Akpom, 20.
He was released on licence from Feltham Young Offenders Institution in June 2013 for gang-related crimes.
Part of his licence, and an injunction against him, prevented him from going back to Enfield, carrying a knife and having any association with gangs.
His previous convictions included possession of a knife in public, attempted robbery, affray and violent disorder, including during the riots in the capital in 2011.
He had been relocated to Leicester to a "more suitable safe, secure and appropriate accommodation" to escape London street gangs.
He carried out the murder of Mr Akpom days after his licence ended in September 2013.
A Youth Justice Board spokeswoman said: "Hussain Hussain completed his Detention Training Order (DTO) sentence, without re-offending, on 9 September 2013.
"He was then offered the opportunity to take up supervision and support - on a voluntary basis - by Leicester City Youth Offending Team."
She said a MAPPA (Multi-Agency Public Protection Arrangements) serious case review had been carried out but the contents of it were confidential.
An Enfield Council spokeswoman said Hussain's case was managed and monitored by the Leicester Youth Offending Service who liaised with colleagues from both areas to carry out the transfer.
She added: "At the time the offence happened he was not on licence, or under statutory supervision, and there was no requirement for him to be monitored by either Leicester or Enfield councils."
The only restriction still in place was an injunction preventing him having any association with gangs.