Leicester woman died as paramedics were locked outside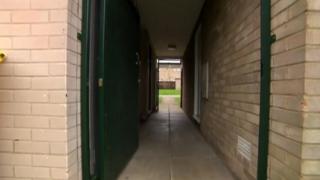 A pensioner died in her flat while paramedics were locked out because of a council-fitted security gate, an inquest has heard.
Margaret Casey died in April after she called her care team and complained of chest pains and breathing problems.
The 81-year-old lived in Fieldfare Walk, Leicester, where gates had been fitted to walkways to deal with anti-social behaviour.
The city council said key safes had now been fitted outside all the gates.
During the hearing at Leicester Coroner's Court, paramedic Zelina Jones said they arrived on the estate in the early hours of 2 April but were unable to access Mrs Casey's flat because of a locked security gate.
She said she tried shouting, banging on the windows and even climbed over a wooden gate and bins, but was still unsuccessful.
Eventually a neighbour woke and opened the gate - almost half an hour later.
During this time Mrs Casey had collapsed and died.
Steven Smith, from the Handy Persons Service, which maintains the gates and is run by Leicester City Council, said about 600 security gates were fitted.
He said no risk assessment had been done before the gates were installed about how emergency services would get past them.
The gate manufacturer also told the coroner they were "designed to keep people out and not let them in."
---
Ambulance service's timeline of 2 April
01:44 Alarm call made by Mrs Casey, from the unit at her home to Leicester Care Control. She collapsed shortly afterwards
01:45 Paramedics called by the care team
01:48 Ambulance arrives at the Charnwood estate where Ms Casey lives
01:50-01:53 Mrs Casey can be heard in the background but she is unable to respond to any questions
01:56-02:02 No reply from Mrs Casey
02:15 Paramedics reach the patient and attempt CPR
---
Leicester City Council and Leicestershire Police said residents were "desperate" for the gates because of intruders, arsonists and drug takers coming on to the estate.
But coroner Lydia Brown, who came to a narrative conclusion, said a risk assessment should have been carried out.
She said: "A solution was required and the gates provided great assistance and appeared to be generally supported by the residents.
"However, the council never stopped to consider the consequences of their actions and the obvious difficulty that making a gate more robust, to keep out the undesirable individuals, also had the effect of keeping out the desirable ones - the emergency services."
She added "On a balance of probability, the delay did not alter the outcome but did diminish the chances of survival."
Pathologist Dr Michael Biggs said Mrs Casey had heart disease and "sudden death could have occurred at any time".
He said even if help had arrived sooner, the chances of her surviving was "very slim" because of the condition of her heart.
A Leicester City Council spokesman said: "Since this tragic incident we have introduced additional measures to assist the emergency services with entry."