Leicester sham marriage gang jailed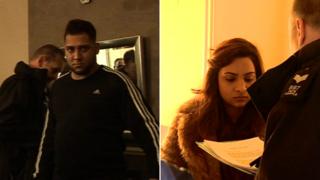 Five people have been jailed for arranging several lucrative sham marriages over seven years.
Ibrahim Mahter, 29, and Abdulgani Makrani, 66, organised at least seven fake marriages for Pakistani and Indian nationals from their base in Leicester.
Kubrah Saiyed, 27, Nimesha Gosai, 30, and Mahter's girlfriend Naima Makda, 28, described as "stooge wives", were also jailed.
The gang was arrested during raids in 2012 and convicted in November.
During the trial at Leicester Crown Court, the jury heard how Mahter was the main driving force of the gang, recruiting brides and setting up the marriages all over the country to help people get British passports.
They were caught after a woman told police that she was forced into a marriage.
All five defendants were charged with conspiracy to facilitate a breach of UK immigration law, between November 2005 and October 2012.
'Disrespect for laws'
Mahter, of Matlock Street, Leicester, was sentenced to four years and Makrani, of Mere Road, Leicester, to three and a half years.
Two of the women, Saiyed, from St Deny's Road, Leicester and Makda, of Bramwell Road, Leicester were sent to prison for two and a half years.
Gosai, of Calder Road, Leicester, had pleaded guilty before trial and received a sentence of 14 months.
Judge Robert Brown said Makrani, a senior member of his local community, had "pressured" women into the fake marriages, an offence which was causing "widespread and understandable concern".
"Only immediate custody is appropriate for offences such as these," he said.
"You showed a total disrespect for the institution of marriage and total disrespect for the immigration laws."
A third man, Syed Mehtab, 36, from Parkfield Avenue, in Hillingdon, Uxbridge, who was also found guilty, will be sentenced at a later date.
Chief registrar Kevin Lewis said they were seeing up to 50 sham marriages in the Leicester area each year.
"It is a very serious matter and this seems to be something that is becoming more and more sophisticated," he said.
"It is a growing crime affecting the whole country, and it is important that we see it and stop it."