Woodland Trust begins six-decade Leicestershire art project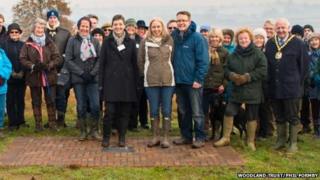 An art project is aiming to photograph the same family, at the same spot, in newly-planted woodland over 60 years.
Legacy, as its called, is the idea of artist Patricia Swannell and aims to capture the woodland growing alongside members of one family.
A 460-acre Woodland Trust site in Leicestershire, created to mark the Queen's Diamond Jubilee in 2012, has been chosen as the location.
Markers have been placed to ensure an identical photo is taken every year.
The wood, near Normanton le Heath, is within the National Forest, which covers 200 sq mi (518 sq km) in Leicestershire, Derbyshire and Staffordshire.
It is hoped the art project will create a permanent archive of the area.
The Martinson family, from Ravenstone, who have a keen interest in the forest, were chosen by the trust to take part in the project.
Chris Williams, site manager for the Woodland Trust, said: "The pictures taken of them will form a digital archive and an exhibition at Snibston Discovery Centre and it is hoped that they will inspire other families to visit the wood each year to create their own family archive."
He said: "It's clear that planting over 250,000 trees was just the beginning of this wood's transformation."
"We aim to make it one of the most interactive and inspiring in the UK," he added.
Louise and Richard Martinson said: "It's strange to think that we may well be returning to the same spot with our grandchildren and great-grandchildren."
There is also a second, time-themed piece of art in the woodland - Now and Then - a giant spiral surrounded by English oak trees.