Leicestershire County Council looks to axe another 700 jobs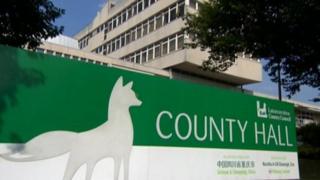 Up to 700 more jobs could be axed as part of Leicestershire County Council's plans to save £91m by 2018.
The council said it had already lost a similar number of posts over the past few years.
The Conservative-led authority said it had been forced to go into "dark corners" to find further savings.
Leader Nick Rushton warned that some services, including rural transport subsidies, could be cut altogether if things did not improve.
He said: "We are a service-based industry - and if we are not providing some of the services we will not have jobs for those people."
However, he said it was hoped the number of compulsory redundancies would be kept to a minimum.
Mr Rushton added that council tax would also need to rise by 1.5% every year for four years - "because of the severity of the situation".
It has been frozen since 2011.
If approved, the cost for a band D property would rise from £1,063 to £1,079 from April 2015.
Areas being looked at for savings include reduced funding for voluntary groups and cuts to community museums.
Other ideas include sharing the Trading Standards service with Northamptonshire and Lincolnshire and further use of assistive technology, such as fall alarms, for people who need care support.
Mr Rushden said the authority was prioritising adult and children's care, along with highways.
A shortfall of £9m is expected by 2018-19.
The budget proposals will be considered at a full council meeting on 11 December ahead of a public consultation.
Analysis from political reporter Tim Parker
"We're going into dark corners we've never looked at before for savings," says county council leader Nick Rushton .
Cutting over £25m from the biggest budget area, adults and communities, is tough enough - but taking nearly the same from the environment and transport pot will mean some services stop completely.
Rural buses currently subsidised by the county could disappear altogether. Road maintenance will suffer.
Even school crossing patrol staff could find themselves farmed out to get the costs down.
And, with 700 job posts going, on top of 700 already lost, it will no doubt include frontline staff who deliver services to very vulnerable people.
Suddenly, that promise to protect the vulnerable, made earlier this year by the county council's deputy leader Byron Rhodes, is looking harder and harder to keep.