Public to attend Richard III reburial at Leicester Cathedral
Hundreds of seats at the reburial of Richard III will be available to the public, Leicester Cathedral has announced.
The remains of the king, who was killed in battle in 1485, were uncovered by archaeologists in the city in 2012.
There will be 200 public spaces at the reinterment service on 26 March next year - a third of the cathedral's capacity.
Tickets will be assigned randomly after an online ballot, the cathedral said.
The reburial will be accompanied by a week of events and hundreds of tickets will also be available for services on 22 and 27 March.
The ballot will run from 12 to 31 December and international applications will be accepted.
However, half of the public spaces available will be reserved for people who live in Leicestershire and Rutland.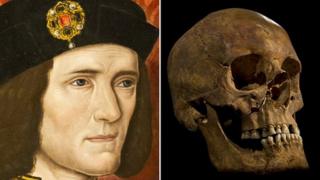 The Very Revd David Monteith, Dean of Leicester, said: "I'm so pleased we are able to invite the public to the cathedral services.
"There is great public interest in King Richard's reinterment.
"Through our ballot hundreds of people will be able to share directly in these services, along with many who will gather in Leicester and watch on giant screens, and many more who will watch on television.
"This unprecedented occasion requires unprecedented access of the public and we are endeavouring to ensure this as much as is practically possible."
---
Reburial timetable
Sunday 22 March: Coffin leaves the University of Leicester, travels round local villages and is taken to Leicester Cathedral
Monday 23 to Wednesday 25 March: Remains of King Richard III will lie in repose in the cathedral
Monday 23 March: Archbishop of Westminster Cardinal Vincent Nicholls will celebrate Mass for the repose of the soul for Richard III in Holy Cross Church, the Catholic parish church and Dominican priory in Leicester city centre
Thursday 26 March: Richard III's remains will be buried in Leicester Cathedral in the presence of the Archbishop of Canterbury Justin Welby, senior clergy, other Christian denominations and representatives of other faiths
Friday 27 March: Tomb is revealed, to be followed by official celebrations across the city
---