Reindeer escapes from Christmas tree farm in Market Bosworth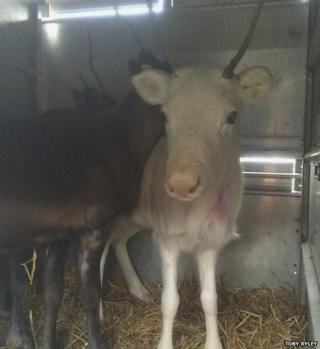 A reindeer is on the loose after escaping from a Christmas tree farm.
The albino reindeer, named Tinsel, went missing after "sneaking out" of the Leicestershire farm on Friday.
Toby Ryley, who owns the business at Friezeland Farm, Market Bosworth, with family members, hopes Tinsel will be spotted nearby.
He had just bought Tinsel and a brown reindeer, named Holly, for £1,500 each. Tinsel escaped, within 20 minutes, through a gap under a gate.
"I had a brand new pen and enclosure built especially for them and there was a tiny gap underneath the main gate and Tinsel, the white one, I don't know how it managed to do it, but it literally snuck out," said Mr Ryley.
The farm is part of the Bosworth Water Trust, which is on the Warwickshire-Leicestershire border.
Mr Ryley said he bought the reindeer so they could be seen by visitors in the run-up to Christmas and was hoping they could later be trained to wear harnesses for sleigh rides.
He believed the reindeer, which eats barley straw and special pellets in the enclosure, would be eating grass in the fields and would be found.
"It came from Finland so it should be warm for it," he said.
"I mean it is a wild animal and I think it is having the life of Riley."
The animal's disappearance was reported to Leicestershire Police on Friday evening, although Mr Ryley did not believe it had been stolen.
"The only thing I'm worried about is that it could be shot if someone is out there stalking," he said.