Concerns over Barwell new build infrastructure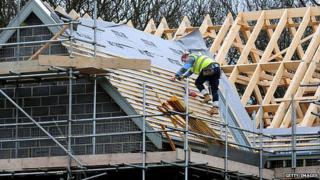 The infrastructure of a village will not cope with a large new housing project, according to some residents.
Plans for 2,500 homes at Barwell were approved by Hinckley and Bosworth Borough Council in April 2013.
But since then two sewers have collapsed and some councillors have said they are "in limbo" over who will pay for new facilities.
The borough council said it was still talking to developers and the county council believed roads would cope.
Borough councillor Hazel Smith said all infrastructure was already under strain: "It is hard to drive through the village at night, with congestion, people mounting the pavement, it is a wonder there has not been an accident.
"We will need new schools and a new doctors' surgery but are they going to do that or are they going to keep us on a false promise?"
Decision makers
County councillor Janice Richards said: "We have been left in limbo because until we know what the developers are going to do, by way of roads and schools, we can't put together a package of improvements.
"We don't want to use taxpayers money where we don't have to. There is a lot of uncertainty."
A spokesman for Hinckley Borough Council said while it approved the plans and negotiations with developers were at an advanced stage over infrastructure, wider issues with existing facilities were decided at County Hall.
But a county council statement said: "Hinckley and Bosworth Borough Council are the decision makers on the Barwell development but we're satisfied as the highways authority that the impact on our roads can be appropriately mitigated."
Severn Trent has said the problems are not caused by overcapacity and it was monitoring the situation closely.