Thieves use digger to steal cash machine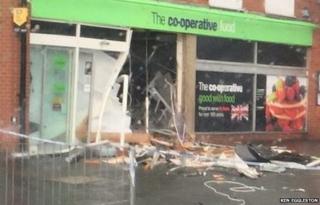 A cash machine has been ripped from a Leicestershire supermarket wall by thieves using a digger.
It is the third similar raid in the county in less than three weeks, and police are now investigating whether they are linked.
In the latest incident, shortly before 02:30 GMT, a JCB digger was used to extract the machine from the Co-operative in Bradgate Lane, Asfordby.
The thieves placed it in a truck and made off west towards Hoby or the A46.
The JCB was found abandoned at the scene.
Det Con Stu Palmer asked the public to report anyone seen driving a mechanical digger in the early hours.
"We are looking into the possibility this incident is linked to two other similar incidents which have taken place recently," he said.
"If members of the public do see JCB vehicles being driven around in the early hours of the morning then please report it to the police."
The first theft of a cash machine was at the Co-operative supermarket in Dog and Gun Lane, Whetstone, at about 02:00 BST on 21 October.
The theft was linked to the theft of a digger from nearby Springwell Lane about an hour earlier.
In the second theft, a stolen telehandler was used steal a cash machine from a store on Main Street, Newbold Verdon, at about 04:25 GMT on Wednesday.