Leicestershire Police launch 'TripAdvisor-style' rating tool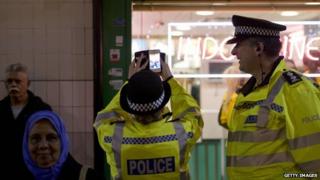 A police force has launched what it calls a "TripAdvisor-style" rating tool to allow people to leave feedback about their experiences with officers.
Leicestershire Police said the system, called Rate your Local Police, will increase public confidence and identify areas for improvement.
Users can access it via the force's website and give a star rating on interactions with officers.
Police said it provided a "quick and simple way of giving honest feedback".
Chief Constable Simon Cole said: "Previous public surveys show that our customer satisfaction rating is 84% and I hope that this new tool will help see this figure rise."
He said it would be particularly useful in highlighting issues of public concern.
Leicestershire Police said it is the first in the country to use the software across the entire force.