Hammer horror archive opens to public for first time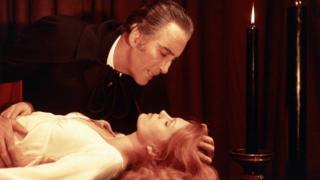 A university that holds the largest collection of Hammer horror memorabilia is to open its archives to the public for the first time.
More than 240 original horror scripts from the Hammer film production company are held at De Montfort University's Cinema And Television History (CATH) Research Centre in Leicester.
Steve Chibnall, director of the centre and professor of British Cinema, said: "When I was growing up, Hammer and horror were virtually synonymous, and seeing one of their films was a rite of passage into adulthood.
"Of course, they liked to sail as close to the wind as possible as far as the censor was concerned, but their products were memorable and influential internationally, and have now been recognised as Britain's most important contribution to fantasy cinema."
Hammer became known for its gothic horror films from the mid-1950s to the 1970s, which saw the birth of iconic characters such as Frankenstein's monster, Dracula and the Mummy.
De Montfort University was made custodian of the archive in 2012 and has continued to add to its collection.
Dr Matt Jones, the university's lecturer in cinema and television history, said: "There's all sorts of unmade scripts and different versions of scripts, and it's certainly the most complete collection of Hammer horror material that's available.
"There's a real wealth of material here for Hammer historians."
The archive includes hundreds of scripts for well-known films such as Devil Rides Out, Demons of the Mind, Twins of Evil and for films that were never made, including Dracula: The Beginning.
It also holds books, articles, images used in the original film posters and collectible items, such as Hammer playing cards.
Associate lecturer at the university, Laura Mee, said: "Their films feature a significant number of iconic characters so really represent that old gothic British cinema that really proved popular in the 50s into the 60s.
"They are entertaining and great fun to watch for a contemporary audience."
Hammer's archivist Robert Simpson oversaw the collection and transfer of the material, formally handing over the first of the script boxes to Professor Chibnall in February 2012.
Members of the public can have a look around the university's archive from 15:00 GMT on 5 November as part of its launch of the Leicester Media School.