Leicester Marathon runners assured over timing chips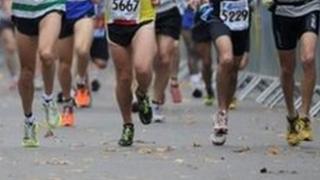 Leicester Marathon organisers said there will not be another timing chip problem which resulted in many runners not getting a finish time last year.
Rain affected the glue that kept the devices attached to the competitor's race number during the 2013 event.
Race director Christian Weikert-Picker said the company providing the chips has changed and he has been assured everything will go to plan.
Thousands of runners are due to set off from Victoria Park at 09:15 GMT.
'According to plan'
More than 3,000 people registered to take part in the race last year but only about 100 people received their times.
One runner said he saw about 20 chips on the floor in the first half mile of the route.
Organisers had to trawl through video and camera footage to publish each runner's data.
Mr Weikert-Picker said: "We have changed timing devices. The company we are using assure me this will run according to plan this year."
Timing chips are small lightweight devices that accurately record a runner's race time.
Some are tied to the shoelace, worn as a bracelet, or tied around the ankle.
The chips used for Sunday's race will be contained in white foam strips on the back of the running number.