Comedian Humza Arshad fronts anti-extremism school campaign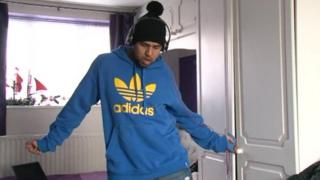 A comedian has been recruited by police in the East Midlands to help prevent the radicalisation of British Muslims.
Humza Arshad, best known for his Diary of a Badman videos on YouTube, has made a 15-minute film to show teenagers the dangers of extremism.
The video was unveiled at Leicester's Crown Hills College and will be piloted in schools across the region.
Mr Arshad said: "You need to have someone in the limelight that kids look up to. I think it will make an impact."
The "Think for Yourself" video aims to highlight the dangers of exposure to extremist messages.
"I want to show that as Muslims we are about peace - and not as we are portrayed. I want to show the world that we are just like everyone else," the comedian said.
Mr Arshad said the video was designed to provoke a debate and prevent radicalised British Muslims going to fight in Syria for the Islamic State (IS) militant group.
If successful it will be offered to schools across the country.
Meanwhile, young Muslims in Leicester have been signing a declaration against the Islamic State.
A scroll with the words "Not in My Name" has been organised by Mu-Hamid Pathan and will be taken to schools, colleges and organisations in the city.
"We want people to come together and say we don't agree with Isis and their practices, and they don't represent us or stand for anything to do with Islam," he said.
"It is up to the average Muslim like myself to educate people and say this is nothing to do with anything we believe in."