New home sought for Leicester Royal Infirmary chapel organ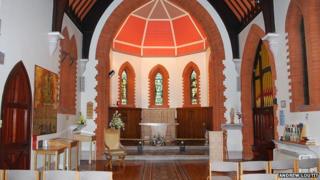 A new home is being sought for a 125-year-old pipe organ before its current site is demolished.
At the end of October the chapel of St Luke at Leicester Royal Infirmary will be shut permanently.
The Victorian building is making way in a scheme to improve capacity at the infirmary's A&E unit.
While some parts of the chapel will be taken to a new area within the hospital, the organ, which has about 500 pipes, is too large.
The chapel was built in 1887 and organist Ian Imlay, who has been playing in the building for 50 years, believes the instrument was added soon after.
He said: "It is heartbreaking the chapel is to go but it is in the wrong place, people have to walk down draughty corridors to get to it.
"The organ is a good organ but it obliviously takes up a lot of space. But I would like to think, if we can find somewhere for it, it will be keeping people happy for another 100 years."
The largest of its metal pipes is 16ft (4.9m) long and it takes up an entire alcove of the chapel.
Hospital bosses have said when the building is demolished, some of the stained glass and memorials will be preserved.