Leicestershire officer Gordon Fraser's death suicide, inquest concludes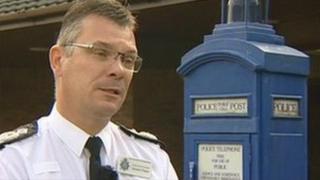 A senior police officer who was suspended from duty took his own life, an inquest has concluded.
Gordon Fraser, former Assistant Chief Constable of Leicestershire Police, was suspended over allegations of misconduct and fraud in December 2010.
He was hit by a train in October 2012, days before he was due in court charged with perverting the course of justice.
The charge, later dropped, related to allegations his wife accepted penalty points for speeding on his behalf.
Gloucestershire Coroners' Court heard Mr Fraser's health declined as he tried to clear his name.
He died after he was struck by a train near Moreton-in-the-Marsh on 19 October 2012.
Coroner Katy Skerrett said Mr Fraser, a father-of-three from Ansley, Warwickshire, took his own life after "a series of tragic triggers meant he couldn't cope any more".
In a statement, his widow Teresa said she "witnessed the downward spiral" of her husband's spirit and decline of his mental health over time.
She said: "It was probably 12 months after his suspension that things spiralled far beyond that.
"He came under increasing pressure over that period of time and his health deteriorated and he wasn't coping well."
'Widely respected officer'
Deputy Chief Constable of Leicestershire Police, Simon Edens, called Mr Fraser's death a "terrible tragedy".
"During his service Gordon had become a very experienced and widely respected police officer," he said.
"However in the autumn of 2010 serious allegations were made against him which, whilst being thoroughly investigated by an outside force, necessitated his suspension from his duties in Leicestershire.
"It is extremely sad that he found himself in a state of mind where he felt determined to take his own life."
Mrs Fraser, a former detective with West Midlands Police, was charged alongside her husband for perverting the course of justice over a speeding incident in Scotland in 2011.
The case was dropped last year by the Crown Prosecution Service after prosecutors decided the case was no longer in the public interest.
Mr and Mrs Fraser were both suspended from police duty in December 2010 over a separate investigation into allegations of misconduct and fraud, relating to a timeshare business in Florida.
Mrs Fraser is due to appear in court on a date yet to be set.