Leicester Sikh free school to open next month after DfE concerns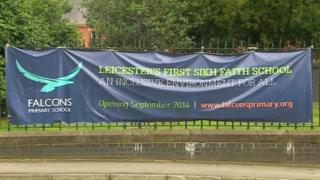 A Sikh free school in Leicester is hoping to open its doors next month after addressing concerns raised by the Department for Education (DfE)
Funding for Falcons Primary School was pulled at the last minute in September when education officials raised issues with the trust and management.
The Akaal Trust said a new board had been appointed and problems resolved.
The DfE said the school still had a number of "strict conditions" to meet before it could open.
Harminder Jagdev, chair of the Akaal Trust, said problems began when two governors resigned a week before the school was due to open.
He said questions were also raised about an educational trust brought in to oversee the running of the school.
The DfE pulled the funding with days to go and originally said the school could open next year if the correct proposals were put forward.
Mr Jagdev said after talks with the community, and a meeting between trustees, politicians and schools minister Lord Nash, matters had been resolved.
"The DfE has approved the new trustees and governing body and they are happy with the choices we have made," he said.
"They are looking at us very carefully now.
"The way things happened was unfortunate and we are confident that it won't happen again."
About 70 pupils had to find new schools after the funding was pulled earlier this month.
The school now hopes open after 14 October.
A spokeswoman for the DfE said a lot of "time and effort" had gone in to securing the school's future.
She said: "We continue to support the idea of a Sikh ethos school in Leicester and have been working closely with the trust to see if we can open the school soon.
"The trust must meet a number of strict conditions before this can happen - for example on staffing, governance and pupil numbers - but good progress has already been made."