MP Andrew Robathan to stand down at next election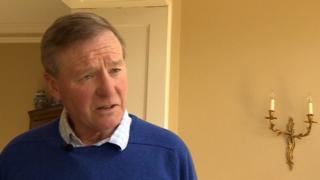 South Leicestershire MP Andrew Robathan has announced he will not be standing again at the next general election.
The former Northern Ireland Minister and Minister of State for the Armed Forced has been an MP for more than 25 years.
In a statement Mr Robathan, 63, said it was "with very mixed feelings" that he had made the decision.
The South Leicestershire Conservative Association said it would now find a replacement candidate for May.
Mr Robathan, a father-of-two, previously had a 15-year career with the army, which included a spell in the SAS.
'Huge privilege'
Last year he told the BBC he had been left unable to walk long distances, stand or walk up stairs following problems with faulty hip replacements.
In the statement Mr Robathan described representing his constituents as a "huge privilege" and said he had been "honoured by the trust and confidence" people had shown in him.
He said: " I have greatly enjoyed my role and I hope I have done some good both for my constituents and for our country.
"However, time moves on.
"In July I stood down from the front bench following 12 years and, after a great deal of soul-searching, I believe it is time to let someone else represent the constituency."
Chairman of the Conservative Association Peter Fuchs said: "He has been an excellent constituency MP responding to all problems that he was in a position to help.
"His integrity throughout has been of the highest order, and it is with great regret the association will see him retire."