Leicester fire deaths widower opens centre in memory of family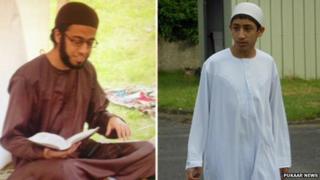 A doctor whose wife and three children were killed in an arson attack has opened an education and community centre in tribute to them.
Muhammad Taufiq said it was his wife's dream to open the centre in Dublin, and he is continuing the work she started.
Shehnila Taufiq, her daughter and two sons died when their home in Leicester was set alight in September 2013.
They had moved to England so the children could learn a normal school curriculum alongside Islamic studies.
'Dream for them'
The family moved to Dublin from Saudi Arabia in 2003 and Dr Taufiq continued working in the Irish capital when his family moved to Leicester in 2005 and he visited them on his days off.
He said: "This was always in our mind, both mine and my wife, that we need to have such a centre here [in Dublin] where the children can get all the education; the curriculum and religious education as well.
"Both my wife and my daughter were going to start the project, which I have started, so it was a dream for them."
The Shuhada Foundation of Ireland is set in acres of land, allowing children from Muslim and other Irish communities to play together.
There is a mosque, halal shop, and a primary school named after Dr Taufiq's daughter Zainab, who was 19 when she was murdered.
Dr Taufiq now lives permanently in the Republic of Ireland and said he felt lonely and devoted all of his spare time to the centre.
"I'm alone and I miss my wife and my children," he said.
"I used to share everything with my wife. She was the great supporter. Everything that we planned, the main mindset was my wife.
"It is my strong belief that they are in a good place, in paradise, and they are looking at what is happening."