Chirag Jadeja guilty of brother Abhay's death in crash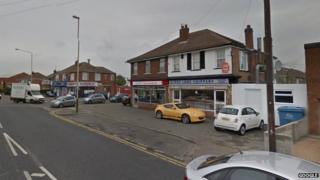 An underage driver who took and then crashed his father's car has been found guilty of causing the death of his younger brother.
Chirag Jadeja, who was 16 at the time, crashed the two-seater Smart car into a telegraph pole in Leicester while his eight-year-old brother was in the boot.
Abhay Jadeja died from a fractured skull after hitting the frame of the vehicle's boot.
Jadeja, now aged 18, is due to be sentenced on 30 October.
The teenager, of Harrison Road, Leicester, was found guilty of the following three charges:
Aggravated vehicle taking
Causing death by careless or inconsiderate driving
Causing death by driving whilst unlicensed and uninsured
Ranvit Singh, the 22-year-old boyfriend of the brothers' older sister, admitted being in the car when it crashed and will also be sentenced on 30 October.
A re-trial at Birmingham Crown Court heard the crash happened when the siblings' parents were out on the night of 3 July 2012.
In a statement read to the court, Jaimina Jadeja said her eldest brother wanted to show her boyfriend how well he could park.
However, CCTV footage played in court showed the car driving off and crashing, minutes later, into a telegraph pole near the Gipsy Lane, Chippery.
PC Stuart Bird, from Leicestershire Police's serious collision unit, said no-one was wearing seatbelts when the vehicle crashed at about 36.8mph in a 30mph zone.
Abhay was taken to the Queen's Medical Centre in Nottingham, where he died.
Singh suffered life-threatening injuries and Jadeja had minor injuries to his arms and fingers.
During the trial Jadeja said he could not remember anything between returning from Singh's home and being in hospital, but the prosecution disputed this.