Abhay Jadeja crash: Chirag Jadeja denies causing brother's death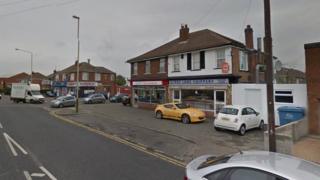 A teenager accused of crashing his father's car, killing his eight-year-old brother in the boot, has told a court he cannot remember the crash.
Abhay Jadeja died from head injuries after hitting the frame of the car's boot in Leicester in 2012.
Chirag Jadeja, of Harrison Road, Leicester, was 16 at the time. Now 18, he denies causing his brother's death.
His sister's boyfriend Ranvit Singh, 22, has admitted being in the car and will be sentenced after the trial.
Prosecutors told Birmingham Crown Court that Mr Jadeja took the car while his parents were out on the night of 3 July 2012.
CCTV played in court
He said he found the keys at their home in Harrison Road and suggested to his older sister Jaimina they go for a drive.
The three siblings got in the two-seater Smart car, with Abhay in the boot compartment, and Jaimina drove a short distance to Mr Singh's house. He then got in the vehicle.
When they returned home, Jaimina got out and went indoors.
In a statement read to the court, she said her brother wanted to show Mr Singh how well he could park.
However, CCTV footage played in court showed the car driving off and minutes later it crashed into a telegraph pole at the Gipsy Lane Chippery.
Abhay was taken to the Queen's Medical Centre in Nottingham where he died from a fractured skull.
Mr Singh suffered life-threatening injuries. Mr Jadeja, who also faces charges of aggravated vehicle taking and driving with no licence or insurance, had minor injuries to his arms and fingers.
'You can't admit it'
He said he could not remember anything between returning from Mr Singh's home and being in hospital.
James Thomas, prosecuting, said: "The reason that you are saying you can't remember is because you can't bring yourself to either admit it to yourself or to tell your parents that you were responsible."
Mr Jadeja replied: "I actually can't remember."
PC Stuart Bird, from Leicestershire Police's serious collision unit, told the court the car was travelling at 36.8mph in a 30mph zone when it crashed.
He said no-one was wearing a seatbelt and a possible cause was "an inexperienced driver".
The trial continues.