Arriva patient transport promises improvements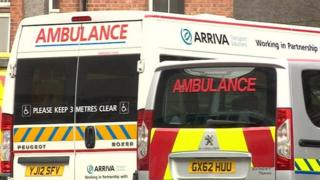 A company criticised for how it takes patients to and from hospital in Leicestershire has said improvements have already begun.
Arriva Transport Solutions has been carrying non-emergency patients in Nottinghamshire, Leicestershire and Rutland for two years.
In June, the Care Quality Commission (CQC) said the Ambuline Leicestershire service failed in three of five areas.
Arriva said it was investing in staff and punctuality was better.
Problems raised by the CQC included patients "often" arriving late for appointments, and taxi drivers with "poor attitudes" being used when other resources were unavailable.
Leicester resident John Sutherington needed to be transferred between hospitals during the summer.
He said the firm arrived 45 minutes late for a pick-up.
Public questions
"Well, the driver did arrive not long after I had started waiting to go to Glenfield and I said 'Can I come?' and he said 'You are not on the list'.
"So he went off with this one lady in an eight-seater ambulance."
At a meeting in Leicester's Peepul Centre, Arriva set out to face questions from the public.
The company's managing director, Jonathan May, said he was "disappointed" with the delays but claimed "improvements" were being made.
He said the company had increased its number of vehicles by 14% and staff by 20%.
Non-emergency patients were transported by East Midlands Ambulance Service (Emas) before Arriva took over in Nottinghamshire, Leicestershire and Rutland.
Contracts for patient transport services across the East Midlands are coming up for renewal and Arriva said it would bid for these.