Leicester illegal circumcision psychiatrist can carry on working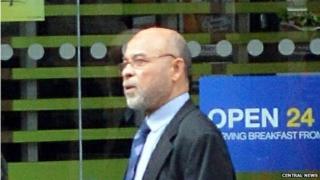 A doctor who illegally circumcised 41 boys in a "non-sterile" clinic has been told he can carry on working as an NHS psychiatrist.
Dr Hassan Abdulla carried out not-for-profit operations for Muslim and Jewish families at a clinic in Leicester.
He has been banned by the Medical Practitioners Tribunal Service from performing circumcisions for two years.
Suspending him would "deprive the public of a competent psychiatrist", a panel said.
Suspension 'disproportionate'
Dr Abdulla, of Sudbrook, Lincolnshire, was not registered with the Care Quality Commission when he carried out the procedures between October 2011 and January 2012.
He was fined £2,700 and ordered to pay costs of more than £30,000 at Leicester Magistrates Court in July 2013.
An inspection found Dr Abdulla had failed to maintain a clean and sterile environment at the Al-Khalill Clinic in Evington, Leicester, and had failed to gain proper consent to undertake the procedure on a five-week-old baby.
The panel said his conviction meant he had "been held accountable" and his risk of repetition was low. Suspension would be "disproportionate", it said.
Dr John Brewin, medical director at the Lincolnshire Partnership NHS Foundation Trust, told the panel there had been "no concerns" raised about his clinical practice there.
Passing a two-year ban on Dr Abdulla performing circumcision, it said his actions amounted to "misconduct".
He must now inform the General Medical Council if he accepts medical posts in the future, among other conditions.