Richard Mayne: Hundreds attend MH17 victim's funeral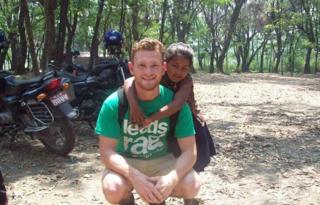 The funeral has taken place of a student from Leicester who died in a plane crash in eastern Ukraine.
Richard Mayne was among 298 people who died when Malaysia Airlines flight MH17 came down on 17 July.
The 20-year-old was studying at the University of Leeds and was about to start a placement in Australia.
Family and friends filled St Anne's Church, Letchworth Road, close to his childhood home.
The family asked that no pictures be taken of any part of the proceedings but agreed to some mourners speaking.
Family friend Dr Peter Swift got to know Mr Mayne when he was diagnosed with diabetes at eight-years-old and said he continued to support the charity Diabetes UK.
"He was an outstanding young man and as he got older he still wanted to be involved," he said.
"I last saw him as he was planning to travel to Nepal on another fundraising trip, this time to raise money for disadvantaged Nepalese children."
Friend and fellow charity supporter Emma Haines said: "He was a most kind, caring and inspirational young man.
"He did so much work with children because he was helped with his diabetes and then he went back to help others in turn."
An initial report by Dutch experts concluded MH17 broke up after it was struck by objects that "pierced the plane at high velocity".
The Dutch Safety Board report did not apportion blame for the crash, which claimed the lives of 10 Britons, but Western governments have said a surface-to-air missile fired by Moscow-backed rebels caused the disaster.