County council 'struggling' to make £50m savings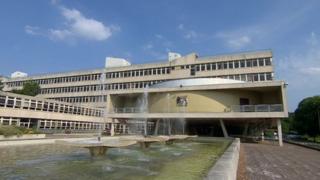 Leicestershire County Council has admitted it is struggling to find ways to save tens of millions of pounds.
The Conservative-led authority has already outlined plans to cut up to £70m from its spending, but said a further £50m had to be saved by 2019.
It has warned the funding shortages could leave it unable to deliver some statutory services.
Simon Galton, leader of the Lib Dem opposition, described the situation as "worrying" and "frightening".
Further cuts discussed
Deputy leader of the council, Byron Rhodes, said: "We have to get more money from somewhere, otherwise we won't be able to deliver the statutory services.
"We are all right for the next year or two, but after that we are at serious risk of not being able to deliver services.
"The sheer magnitude of what we are trying to do is much more than just efficiency savings."
Mr Galton, said: "The council is reaching a tipping point in the next couple of years where we may not be able to meet the statutory responsibilities around adult social care and vulnerable children."
A cabinet meeting next week will discuss proposed cuts in adult social care, libraries and museums.
The committee will consider cuts to meal subsidies and day centres for older people and also the option of cutting library opening hours or handing over management to others.
---
What does this mean for the council?
Tim Parker, politics reporter, BBC Radio Leicester
Just when Leicestershire thought it had cracked this, managing to cut £85m out of its budget between 2010 and last year, along comes another year of austerity, making the latest five-year plan one of savings of £120m.
The council says it's too early to predict what impact the latest budget revelations will have on jobs, but a trawl for voluntary redundancies has been going on ever since the cuts began.
What many people are doing now is looking through the 1,200 or so pages of council cabinet papers to find out what the ruling Conservatives really want to do with some very important services - including in adult social care - which have been subject to consultation over the summer.
---
Tony Donovan, from AGE UK said he was concerned the most vulnerable people in the county would be hit the hardest.
"There is a huge pressure on the council and my main concern is that older people are a very easy target when it comes to saving money," he said.
Regional organiser of the union Unison, Keith Libetta, said he was concerned the authority would be forced to make more redundancies.