Glen Parva prisoner Steve Davison 'took own life after low risk assessment'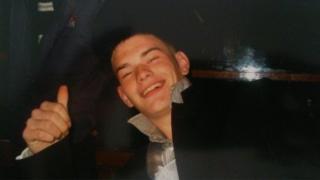 A man with a history of mental health problems killed himself after being sent to a young offender institution, an inquest has heard.
Steven Davison, 21, was jailed for possession of a knife, which he had threatened to harm himself with.
But he was graded as a "low risk" of self-harm and suicide shortly before killing himself in his cell at YOI Glen Parva, Leicestershire, last September.
The inquest heard this was despite him presenting several "risk factors".
The suicide risk factors and potential triggers included:
His discharge from a psychiatric facility, prior to being imprisoned
Self-harming by burning his arm
Self-harming by cutting or scratching abusive words into his legs
His girlfriend telling him his grandfather had died
His girlfriend ending their relationship in the same phone call
Being told he could not attend his grandfather's funeral
Being due for release and concerned about his future
Concerns about not being able to see his child
Evidence from prison officer Naomi West, read at the inquest, said: "He told me he wanted to die but he would not do it while in prison.
"He told me he got on well with his cellmate and would not want him to find him."
The inquest heard prison staff could have moved Mr Davison to a "safer" cell, where he would not have been able to hang himself.
But he was not moved and was found hanging by a prison officer while his cellmate was away from the cell.
Prison officers described him as "quiet and polite" and a "nice person" in evidence heard at Leicester Town Hall.
However, he was said to have doubts about his self-worth.
Evidence from prison officer Paul Cairns, read at the inquest, said: "He and his cellmate, Luke Brown, were easily intimidated by the other prisoners."
The inquest continues.