Lexi Branson inquest: Mother stabbed dog during attack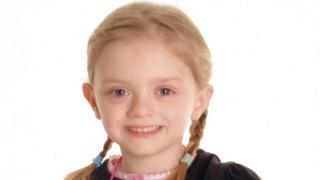 A mother has described how she stabbed the family's rescue dog to stop it attacking her four-year-old daughter.
Lexi Branson died after being bitten at home in Mountsorrel, near Loughborough, Leicestershire, on 5 November.
Her mother Jodi Hudson told Rutland and North Leicestershire Coroner's Court Lexi had been off sick from school.
Staff at the kennel which rehomed the dog had said it was more suited to a family without small children but had "no concerns" about its new home.
The inquest was told the dog called Mulan by the family, which was described as an Aylestone bulldog-type breed, had only been in their home for four to five weeks before it attacked Lexi.
It had had seven previous owners and during that time had attacked another family dog, but the Willow Tree Kennels, in Barrow-on-Soar, had not been told about that incident.
'Straight for her throat'
Giving evidence, Ms Hudson said Lexi was used to giving the dog cuddles and had shown no sign of aggression.
Ms Hudson told the inquest she had previously described the dog as "very gentle" and that it had never shown any aggression to her to Lexi before the attack.
However, on the day the four-year-old was off sick, she had been watching TV with her mother when, Ms Hudson said, the dog "just went up on all fours and just stared at Lexi".
"I tapped her bum and said, 'Mulan, no', and as I did she went for Lexi.
"She went straight for her throat, then around her mouth."
Ms Hudson, who had previously never owned a dog, told the hearing how she tried to pull the dog's legs apart and smashed a glass on its head before grabbing a kitchen knife and stabbing the animal several times.
She gave her daughter first aid until paramedics arrived.
Despite treatment and being airlifted to hospital, the four-year-old girl died shortly afterwards of facial injuries and suffocation.
Det Sgt Kenny Henry, of Leicestershire Police, said while the dog had seemed "placid" it had attacked a previous owner's other dog in the garden.
Mulan's temperament had been assessed by a member of staff at the kennels who had no qualifications regarding dogs but years of experience with dealing with the animals, the inquest heard.
Kennels staff member Sammi Pestell said she had found the animal was "very sweet natured" with a "lovely temperament".
The kennels had advised the dog was better suited to a home without children due to its size but a member of staff told the hearing that advice was left to the new owner's discretion.
The hearing continues.