Wymeswold air crash pilot David Newton 'lost control'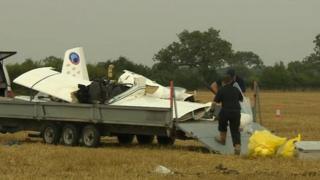 A father lost control of his light aircraft and crashed, killing himself and his student daughter, an inquest has heard.
David Newton is thought to have abandoned the flight shortly after he and daughter Rebecca took off, having seen a warning light in the cockpit.
Investigators believe he then intended to land at the private airstrip near Wymeswold, Leicestershire.
But the aircraft hit the ground in a nose-down collision.
Mr Newton, 56, from Cropwell Bishop, Nottinghamshire, and Miss Newton, 21, both died soon after the crash on 21 August 2013.
Concluding the inquest in Loughborough, Coroner Trevor Kirkman said: "The evidence suggests that at a very early stage the pilot had abandoned the intended flight, and was flying at a low level, intending to return to land on the airstrip.
"It seems likely that that was as a result of the alarm on the engine that had been witnessed in the cockpit of the airplane."
'Promising student'
The crash was investigated by the Air Accidents Investigation Branch.
Investigator Andrew Blackie said it was likely the aircraft was not high enough in the air for Mr Newton to recover when he lost control.
The coroner concluded that the deaths were accidental.
Both sustained multiple injuries, with Mr Newton's cause of death given as a head injury, and his daughter's given as head and chest injuries.
Miss Newton had been due to enter her final year studying biosciences at Brunel University, after completing a placement year.
Her tutor, Dr Anthony Tsolaki, described her as "one of our most promising students", and "very popular" with a "bubbly personality".
"Her career was full of promise and her passion for biological science was apparent in every aspect of her work," he said.