Leicester Sikh free school could open next year, DfE says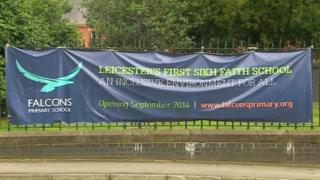 The Department for Education (DfE) has said it is committed to opening a Sikh school in Leicester by next year, after it pulled funding for a free school.
Falcons Primary School was due to open on Wednesday but the DfE ended its funding agreement with the Akaal Trust over "serious management concerns".
In a statement, the DfE said a Sikh free school could open in Leicester, if the right proposals were put forward.
The Akaal Trust said the DfE's concerns were "baseless".
"We're flabbergasted, we don't know what to say or what to do," said Harminder Jagdev, chair of the Akaal Trust.
"We feel all the points raised are baseless and are very disappointed. We want to speak to the DfE to explain to them, over this week, what is happening," he said.
In its statement, the DfE said: "This has been a difficult decision to make but the interest of the children must come first and it would not be right to allow the school to open given the governance arrangements have broken down significantly.
"The DfE remains committed to opening a Sikh school in the local community in Leicester, operated by a Sikh organisation, and we will work closely with the community to realise this aim.
"We hope that such a school will open next September if a suitable proposal comes forward."
Steve Snelson, head teacher at Falcons, said he was devastated about the decision.
"The DfE asked that the school continue in the same way it had been set up but with a different trust board in charge.
"Falcons was always meant to be a Sikh faith school. We understand there were meetings with the local Sikh community and that it wasn't felt they could support the Discovery Trust replacing the Akaal Trust."
Leicester City Council said it was working to find places for about 20 pupils who were due to start at Falcons on Wednesday.