Leicester Riders basketball arena plans announced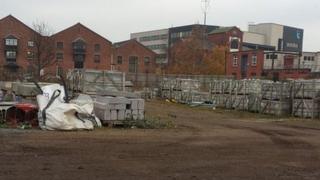 Plans have been unveiled for a £4.2m community sports arena to be built at a former gas works site.
The 2,000-seat venue will be located in Charter Street, near to a college campus, in Leicester.
The facility would become the permanent home for the Leicester Riders basketball team, which currently plays at De Montfort University.
The team's director Kevin Routledge said he was pleased the Riders finally had a long term home again.
Site decontamination
Mr Routledge said most of the time the public will be able to use the centre, which will have a fitness suite, classrooms, offices, bar and café.
"It is a community project and 80% of the time it's going to be used for the community," he said.
"Riders are an element of it."
Leicester City Council said the new project would help regenerate the area but some of the costs would go towards decontaminating the former gas works site.
It is hoped the arena, which could stage major indoor events, will be ready by autumn 2015, subject to planning permission.
The money will come from a number of sources including from the basketball team, city council, Leicester College and Sport England.
The authority favoured the wasteland as the best option as it was "well positioned" near the city centre and had adequate space for parking.
Other possible sites had been Grace Road, the old Granby Halls in Welford Road and the former John Ellis College campus.