Funding pulled from Leicester Sikh free school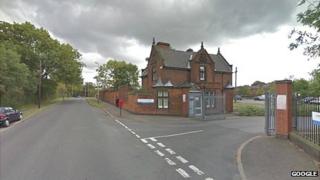 A Sikh free school due to open in two days has had its funding withdrawn by the government, leaving parents upset at the last-minute decision.
Falcons Primary School was due to open in Leicester but was told by the Department for Education on Friday its funding agreement would be terminated.
A letter sent to the Akaal Education Trust stated there were "serious concerns" over the school's management.
The 70 pupils will be sent to other schools while the matter is resolved.
Petition started
The letter, sent to Mr Harminder Singh Jagdev from the Akaal Education Trust, said: "It has become apparent there has been a significant breakdown in the relationship between the trust, several members of the Falcons Primary School local governing body, the Principal Designate and other staff members.
"The secretary of state is of the view that the deterioration in relationships is of such a degree as to represent a serious breakdown in the management and governance of the trust."
On the school's Facebook page, one supporter posted: "Leicester's only Sikh School has been taken over by a non-Sikh trust. Will Leicester even have a Sikh School?"
A petition has been started calling for the Akaal Education Trust to be reinstated and parents said they would protest against the decision outside Leicester Town Hall.
The Facebook page also states pupils due to start at Falcons on Wednesday will be sent to Taylor Road Primary School and the East Park Road Community Centre.
Disappointed parent
Parent Sharon Mann said she was upset by the decision: "This was an opportunity for my child to have a good education and to learn about her faith - it is such a disappointment.
"We do not know what is going to happen. Overnight they have taken our school away."
A Department for Education spokesman said: "No child will go without a school place as a result of this decision which has been made to ensure every child has the opportunity to go to a good local school with the highest possible standards of leadership and governance."
No-one from the school or Akaal Trust was available for comment.