Oakham homophobic attack victim walks in Pride event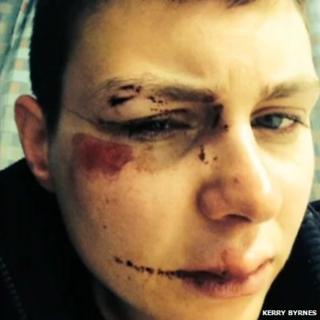 The victim of a suspected homophobic attack has marched in the Leicester Pride event.
Kerry Byrnes, 23, was walking home in Oakham, Rutland, on 15 August when she was subjected to abuse, then punched in the head and knocked unconscious.
Ms Byrnes said she had found it difficult to leave her house since the assault.
Leicestershire Police invited her to join them in the parade, which has attracted thousands of people.
Ms Byrne said: "This needs to stop, people need to realise you can't attack someone because of the colour of their skin, their sexuality, whatever.
"I want to go out with my head held high and show them they have not won."
The parade started at Curve theatre and will move on to Victoria Park for the afternoon.
The force said it was still investigating the attack and is appealing for witnesses.