HMIC 'concern' about Leicestershire Police's crime data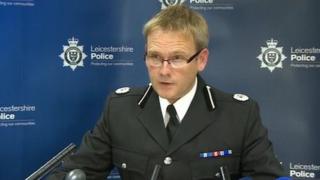 "Significant" concern has been raised about the way Leicestershire Police has dealt with crimes including sexual offences and assaults on children.
An inspection found the force had failed to record all crimes referred from other agencies to its specialist departments.
In a report, Her Majesty's Inspectorate of Constabulary (HMIC) recommended that "urgent" action is taken.
However, the force claimed the majority of the report was "very positive".
'Significant concern'
HMIC has inspected police forces across England and Wales, examining the ways they record crime data.
As part of the Leicestershire Police inspection, HMIC examined 55 reports that were referred from other agencies directly to the force's specialist departments.
Of the 16 crimes that should have been recorded, only six had been.
The report stated: "As some of these records related to sexual offences and assaults on children, this is a significant cause of concern and is a matter of urgent importance."
It also said: "During the fieldwork it was evident that the force was focused on the accurate, ethical recording of crime with no management pressure being applied to under-record or mis-record crimes to hit performance targets."
Assistant Chief Constable Roger Bannister said: "We acknowledge that some of the cases audited by the HMIC were not recorded on our crime system but we can reassure the public that every report was fully investigated and the victims were given the appropriate support.
"In fact, we didn't wait for HMIC to tell us about this issue, our own auditing systems had picked it up, and we had already put measures in place to address it by employing a full time administrator with specialist training to monitor the database to ensure crimes were being recorded correctly and in a timely fashion."
The way the force audits and monitors sexual offences was described as "good practice".