Crown Hills attack: Man stabbed nine times in street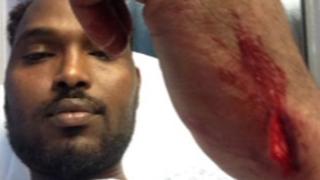 A man says he feels lucky to be alive after being stabbed nine times during what he said was a random attack.
Abdirashid Adan was attacked by two men in Gedding Road, Leicester, at 12:30 BST on 19 August.
He suffered deep knife wounds to his hands, arms and legs and suffered a broken arm as he struggled to protect himself from the men.
Police said officers are still investigating the attack and have urged witnesses to come forward.
Mr Adan, who works as a delivery driver in Coventry, said he had dropped a woman off at her home when he was targeted.
"Seconds later I saw people running towards me with knifes and a machete," he said.
"They said 'before he gets out of the car just kill him'.
"The machete came straight to my head and I put my arm out in front.
"There was a lot of blood. I didn't want to die."
Mr Adan said the men, who were unknown to him, ran away empty handed after another car turned into the road.
Despite his injuries Mr Adan said he managed to drive a mile home where his girlfriend took him to A&E.
Now recovering at home Mr Adan said he was worried his attackers might return.
"I thank God that I have still got my life. I thought I would be dead," he said.
"I can't walk myself, I'm on 15 to 20 painkillers a day and I can't work.
"I feel scared. I'm always looking over my shoulder."