Great Glen crematorium ruling leaves council 'powerless'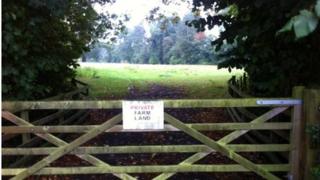 A council leader says the authority has been left "powerless" in its fight over plans for a new crematorium to be built in a Leicestershire village.
Government inspectors overruled the district council's decision to reject the proposals for the crematorium in Great Glen earlier this year.
Leader Blake Pain said there was little action the council could now take as further appeals could be costly.
The Co-operative Group, who owns the land, said work could start by October.
The council refused planning permission for the crematorium last year after it said the project failed to meet policies on landscaping and design.
Their decision was overturned after Co-op appealed to government planning inspectors.
Councillor Pain, from Harborough District Council, said: "The planning process has taken its course and we are powerless.
"I'm not sure what options are open to us now following the government inspector's decision."
He said planning and legal teams were working to see if there were grounds for a further appeal.
'Extremely disappointed'
Peter Hockenhull said he and other Great Glen residents had been left "extremely disappointed" by the plans.
"Villagers have got a number of major issues that concern them," he said.
"We wants assurance that lorries won't go through the village during construction... more vehicles coming through would change the face of the village."
The site for the new crematorium, in London Road next to Stoneygate Primary School, forms part of 202 acres of farmland that is owned by the Co-op.
A representative for the group said work had already begun to prepare the site.
A statement said: "It has been our belief from the beginning that this is the right site for a crematorium, and that its construction will be enormously beneficial to residents throughout South Leicestershire."
Work is expected to take up to 10 months.