Oakham homophobic attack appeal after woman beaten by men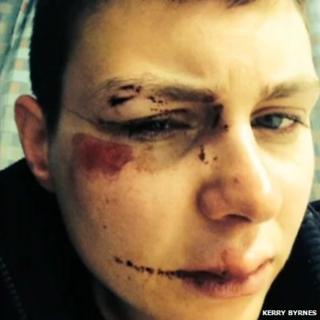 The victim of a homophobic attack by two men has shared photos of her injuries in an attempt to find them.
Kerry Byrnes, 23, from Oakham, Rutland, was knocked unconscious after being repeatedly punched in the head.
She said she has been unable to leave her house since the assault, at 01:30 BST in Burley Road last Sunday.
Police have appealed for information on the attackers, who made homophobic comments to her.
'Massive impact'
Miss Byrnes suffered a fractured cheekbone and bruises in the assault and has had her appeal shared widely on social networking sites.
She said she saw two men walking behind her as she returned home.
"As they got nearer they said 'that is the lesbian' and then all I remember is a fist in my face and I hit the ground," she said.
"Everything after that was a blur.
"I haven't left the house since it all happened. It's a fear that they will come back."
Her photos have been retweeted more than 100 times on Twitter and shared 160 times on Facebook in a bid to find her attackers.
PC Mark Barlow called it a "nasty assault" and said officers were looking at CCTV footage from the night.
Miss Byrnes, who has lived in the town for six years, said: "This felt like a homophobic attack, just from the comments that were made.
"I had my phone and money on me but they didn't take anything.
"It's had a massive impact on my life.
"You just don't expect a homophobic crime in the 21st Century."