Leicester's Jubilee Square: £4m project open for festival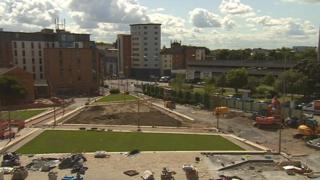 A new £4m public park in Leicester has been temporarily opened to host an entertainment festival.
Jubilee Square has been created from St Nicholas Place car park.
The project has faced criticism for disrupting nearby businesses, loss of parking and unnecessary spending at a time of tight council budgets.
But city mayor Sir Peter Soulsby said Leicester needed more than good shops to attract visitors. The square is due to be fully completed in October.
When plans were unveiled in 2012, many local traders expressed fears about its impact on business and some said they had not changed their minds.
Steve Cooper, from Abel Alarms on nearby Vaughan Way, said: "It looks better than a car park but a car park is better for business.
"It has certainly been difficult for us, especially when the road through here was closed.
"A park is somewhere that children should be able to run round and have fun but this isn't a place for that because there is still a road running through it."
Sir Peter said: "In the modern world, with the sort of retailing you have today, you have to have more than brilliant shops.
"We have the brilliant shops but you have to give people a reason to come and shop in our shops and that means investing in the city centre."
The square will be opened during the Bank Holiday weekend for the Leicester City Festival before being fenced off again.