Rewards offered over homes burgled after Leicester fire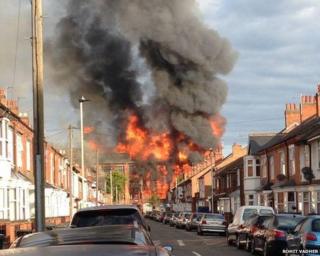 A £1,000 reward is being offered for information on burglaries at homes and a service station in Leicester that were evacuated after a large fire.
Up to 200 homes were evacuated on Thursday August 7 after a fire broke out at a nearby factory on Melton Road.
Residents returned to their properties three days later to find money and gold jewellery had been stolen.
Crimestoppers, which is offering the reward, said the "perpetrators" should not get away with the crimes.
Three houses and the service station next to the site of the fire were ransacked some time between August 9 and 11:00 the next day.
Leicestershire Police said they were targeted "knowing they were vacant at that time".
Officers said entry had been gained via the rear as the fronts were boarded up because of fire damage.
Kiran Dhanda, East Midlands regional manager for Crimestoppers, said: "It's horrible to think that people can be so careless and thoughtless when the victims are already having a torrid time having been evacuated from their homes.
"Don't let the perpetrator(s) get away with this. Stand up for your community and do the right thing by contacting Crimestoppers anonymously."
The reward is being offered for information leading to the arrest and charge of the person or people responsible for the burglaries.
Resident Jamnadas Vasanji, who had his house broken into, previously told the BBC the burglars ransacked the bedrooms and "left a real mess."
The blaze, which caused the collapse of the four-storey building along with businesses inside, prompted the evacuation of homes from four neighbouring roads.