Leicestershire police inspector in UK stop and search reform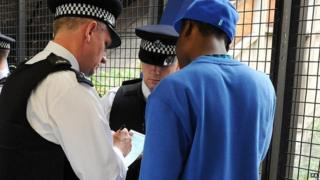 A black police inspector has been chosen to reform the way forces across the country use stop and search powers.
Insp Nick Glynn was chosen after the home secretary said ethnic minorities were being targeted unfairly.
He already advises Leicestershire Police and said he had been stopped and searched himself about 30 times while off-duty by officers from other forces.
Theresa May said she would change the law if the number of searches deemed illegal did not drop.
At present, police can stop someone if they have reasonable grounds to suspect they are carrying illegal drugs, a weapon, stolen property or something which could be used to commit a crime.
However, officers can also stop and search someone without suspicion that they are involved in wrongdoing, if approved to do so by a senior officer.
'Rightly concerned'
Insp Glynn has been seconded to the College of Policing, to help make the changes.
"People are rightly concerned," he said. "We know we need to make some changes.
"Over 50% of searches are focused on street possession of drugs... and we need it to be more focused on the big priorities... like violent crime.
"I have my own personal experience of being stopped and I'm now in a position where I can have more of an influence on it."
In April, Mrs May said when misused, stop and search was an "enormous waste of police time" and "hugely damaging to the relationship between police and the public".
She told MPs an inquiry had found 27% of searches, in England and Wales, may have been illegal.
Leicestershire Police was criticised by the Equality and Human Rights Commission in 2010 for disproportionately using the tactic on black males.
Chief Constable Simon Cole said since reducing the number of searches, arrests have doubled, indicating the force is using the technique more effectively.