Loughborough Magistrates' Court under 25% capacity, say solicitors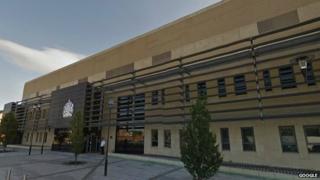 A £15m magistrates' court built six years ago is running at under a quarter capacity, solicitors claim.
Cells "stand empty" and security staff "outnumber" defendants at Loughborough Magistrates' Court, town firm Straw and Pearce claimed.
The Ministry of Justice (MoJ) said it was because all custody cases are now listed in Leicester to "increase efficiency".
It said 18 staff are being transferred to Leicester Magistrates' Court.
'White elephant'
David Leigh, from Straw and Pearce, said it has meant the building has "never" been used to full capacity since it opened in November 2008 and is currently at 20% to 25%.
"Some days the security staff outnumber the defendants," he said.
"Cells haven't been used for months now - I don't think it's intended they'll be used again. They are, I believe, state-of-the-art and capable of holding terrorist suspects."
He said Leicester "doesn't have the capacity" to deal with increased numbers of cases and defendants are left "hanging around for long periods", he added.
Labour's parliamentary candidate for Loughborough, Matthew O'Callaghan, said the building was a "£15m white elephant".
"This has happened with very little consultation and no major publicity around it," he said. "This is almost happening by stealth."
The MoJ said the court continues to hear criminal cases three days a week.
However, after a review of Leicestershire courts in April, it found there was insufficient cell space at Loughborough and Hinckley to deal with all the county's custody cases.
"Loughborough Magistrates' Court continues to hear criminal cases including trials, defendants bailed to court by the police, fines, council tax and probation breaches," a spokesman said.
"A wide range of work including civil, family and tribunal cases are heard on the remaining days, which ensures the most effective use of the building."
The 18 administrative staff and legal advisers are mostly part-time positions, he added.