Adventurer Sarah Outen completes 101-day Alaskan kayak trek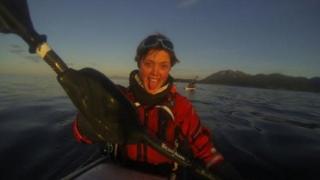 Rutland adventurer Sarah Outen has completed a major milestone in her attempt to cross the world by kayak, bike and ocean rowboat.
The 29-year-old has finished a 101-day kayak trip along the Aleutian Islands in Alaska along with her kayaking partner Justine Curgenven.
She became the first woman ever to row across the North Pacific in late 2013.
Ms Outen, now based in Oxfordshire, will take a week-long rest and resume her trek by bike from Homer in Alaska.
'Super chuffed'
"Super super chuffed to make it to Homer today after an amazing kayaking adventure with my good pal Justine these last 101 days," she said on Twitter.
"Exhausted now. Muscles looking forward to a massage. Anchorage tomorrow to make Justine 's flight and I will have a week off before heading back to Homer to start the bike east."
She started her round-the-world attempt in 2011 in London, but was stymied by a tropical storm in the North Pacific in 2012 when she had to be rescued by the Japanese Coastguard.
After recovering from that setback, she eventually arrived in Alaska after a 150-day marathon row covering 4,315 miles (6,944 km) in her boat Happy Socks.
She restarted her journey with kayaking partner in April, kayaking up to 50 miles (80km) a day in rough conditions along the Alaskan coast.
She aims to raise more than £100,000 for charity as part of her London2London challenge.
In 2007, she rowed across the Indian Ocean from Australia to Mauritius to raise money for arthritis research after the death of her father.