Man arrested over Burbage arson blast attack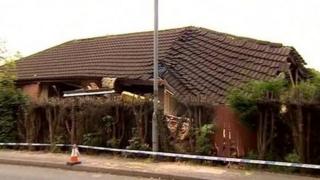 A 54-year-old man has been arrested in connection with an arson attack which led a Leicestershire house to explode while a couple were trapped inside.
The bungalow on Aldridge Road, in Burbage, collapsed after the blast in the early hours of 12 August last year.
Michael and Angela Broderick, who are both deaf, escaped with minor injuries after being alerted by a specially fitted vibrating alarm system.
The 54-year-old man has been released on bail pending further inquiries.
The couple, who are in their 50s, were pulled to safety by police after they were woken by vibrating pads under their pillows, triggered by the adapted alarm, designed for people with a hearing impairment.
At the time Mr Broderick said he woke up to find the bedroom full of smoke.
"I alerted my wife very quickly," he said. "I was in a panic and my wife started to cry and sob.
"We were shouting through the window.
"If the vibrator hadn't gone off, my wife and I would be dead."
Fire investigators initially thought the blaze was an accident, but then discovered petrol had been spread throughout the property.
Previously, Leicestershire Police said the attack could easily have been a double murder.