Leicester factory fire evacuated homes burgled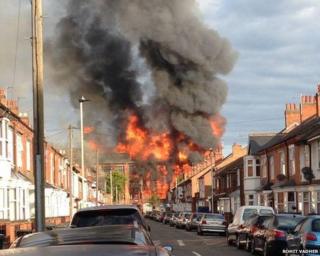 Homes evacuated during a huge fire at a nearby factory were burgled while they were empty.
More than 200 homes were evacuated when the blaze tore through the building in Leicester on Thursday morning.
Leicestershire Police confirmed three homes were targeted "knowing they were vacant" between Saturday afternoon and Sunday morning.
Demolition crews have now cleared the fire-hit site in Melton Road and residents have returned to their homes.
'Ransacked bedrooms'
Resident Jamnadas Vasanji, who had his house broken into, said money and valuables, including gold jewellery, were stolen.
"The burglars ransacked both of the bedrooms upstairs and left a real mess," he said.
Another resident Hiral Desai said: "My mum kept all their jewellery hidden in clothes, and they have searched through it all.
"They knew what they were looking for because they left the silver jewellery. The costume jewellery they bent, they figured it out and took the actual gold.
"We've lost family heirlooms and items that were gifts."
Insp Lucy Batchelor said: "It is very saddening that someone has taken the opportunity to target these properties knowing they were vacant at that time.
"Not only have the occupants had to endure the stress of being evacuated from their homes during a significantly dangerous situation ongoing nearby but now return to find they have been burgled."
Police said entry to all three properties was gained via the rear as the fronts were boarded up because of fire damage.
The blaze, which caused the collapse of the four-storey building along with businesses inside, threatened to spread to a next door petrol station.
It prompted the police to evacuate the homes from four neighbouring roads.
The A607 Melton Road was closed in both directions between the A563 Troon Way junction and the A6030 Checketts Road junction during the demolition work but has since reopened.