Leicester Belgrave regeneration work starts next phase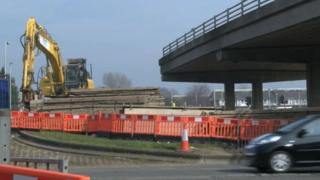 The next stage of roadworks in a major reworking of Leicester has started in preparation for Diwali celebrations.
The Belgrave Flyover was demolished earlier this year to connect the Golden Mile with the city centre.
Extra lanes, cycle and pedestrian routes are being built with work to fit around Diwali, when 35,000 people celebrate in Belgrave in October.
Melton Road, at the opposite end of the Golden Mile, remains closed two days after a fire destroyed a factory.
The extra space created by demolishing the flyover means a there will be two lanes for cars heading north up Belgrave Road, known as the Golden Mile, and an extra southbound lane at the start of Belgrave Circle.
The latest stage of work will see a cycle route and walkway built across the roundabout.
The final phase of the project will be completed after celebrations for the Hindu festival of Diwali and should be completed by spring next year.
City mayor Sir Peter Soulsby said: "This is a major project which is completely transforming and vastly improving this part of Belgrave and reconnecting the Golden Mile to the rest of the city."
The council said there would be no road closures during the work but lane restrictions would be in place.