Glen Parva youth offenders' prison labelled 'unsafe' by inspectors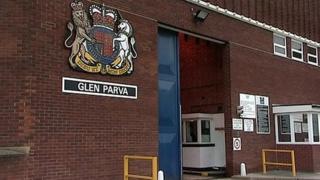 A young offenders institution in Leicestershire has been labelled unsafe by inspectors.
HM Inspectorate of Prisons visited Glen Parva - which holds about 650 prisoners aged 18 to 21 - in April and found 11 points of concern.
These included a 25% rise in assaults in one year, high levels of self harm and bullying and an "unacceptable attitude among some staff".
The Ministry of Justice said plans for improvement were in place.
Threat of violence
HMIP's report concluded: "This is a model of custody that does not work".
Inspectors found an increase in the number of serious incidents including barricades, hostage taking and "incidents at height", such as rooftop protests.
The unannounced inspection also found some prisoners charging other inmates "rent" for cells and threatening violence if it was not paid.
Chief Inspector of Prisons Nick Hardwick acknowledged efforts to improve had begun at Glen Parva, which he described as a "concerning institution".
He added: "Some of the challenges Glen Parva faces are outside its direct control and the planned review of arrangements for holding young adults, and the current independent inquiry into recent self-inflicted deaths among this age group, need to proceed urgently."
The report found assaults on prisoners had risen from 121 in 2012 to 157 in 2013 and assaults on staff had increased from 35 to 43 in the same period.
Lord of the Flies
Prison reform charity the Howard League said the number of prison officers in Glen Parva had been cut from 250 in September 2010 to 140 this year.
Chief executive Frances Crook said: "This prison is dangerous for teenagers and this sounds more like an extract from William Golding's Lord of the Flies than a report on an institution that is meant to help young people turn their lives around.
"Yet another report of violence and idleness inflicted on teenagers by the state shows that the use of short prison sentences and remand is at the core of the problem."
Michael Spurr, chief executive of the National Offender Management Service, the agency that runs prisons in England and Wales, said: "The challenges presented by the young men held at Glen Parva should not be underestimated and on occasions the prison has struggled to cope.
"The governor launched an improvement plan prior to this unannounced inspection and progress is being made."