Leicester City FC autograph challenge for father and son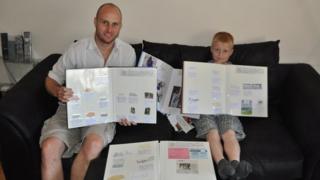 A father and son have set themselves the challenge to collect the signature of every footballer to play for Leicester City FC since the end of World War One.
Mathew Mann and his son Dylan, 10, from Barlestone in Leicestershire, have so far collected 860 names but still need another 130.
Dylan writes letters and emails to players asking for their autographs.
They are only one player short of completing the 1919 side.
'Never stopping'
Mr Mann said it had been difficult to track players down, especially those who only played a handful of games for Leicester and then disappeared into obscurity.
"They are very difficult to find, especially from the '60s and '70s because people didn't update Wikipedia or Google in those days," he said.
The pair started the task when Dylan added to his dad's collection of signatures by asking for autographs at Foxes games.
Dylan writes to players asking for their autographs often after tracking them down on the internet.
Mr Mann has bought many of the signatures, especially those of players who have died, from auctions.
"We both enjoy it a lot and we are never going to stop," he said.
They have compiled six albums of autographs so far.