Antoin Akpom 'lay dying in street as best friend held his hand'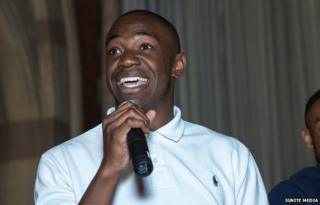 A police officer has told a court how a stabbed sports coach lay dying in the street while his best friend held his hand.
Antoin Akpom, 20, died in hospital after being stabbed by 19-year-old Hussain Hussain in Leicester on 12 September.
Hussain has already been jailed for murder.
But 20-year-old Abdul Hakim is now also on trial accused of murdering Mr Akpom, a charge he denies.
'In shock'
PC Richard Barber told the court he found Mr Akpom lying in the street outside Spike's Gym.
The police officer said he had to ask a group of men not to lift Mr Akpom to take him to hospital, and they put him back on the road to wait for paramedics.
PC Barber said Mr Akpom's best friend Joe French was with him.
"He seemed in shock. He was visibly upset," said PC Barber. "He remained with me, holding Antoin's hand."
A group of men subsequently attempted to take revenge for Mr Akpom's death by setting fire to the home of Mr Hakim's mother.
However, four members of the Taufiq family were accidentally killed when the men set fire to the wrong house.
Mr Akpom's mother, Cheryl Armatrading, left the court room in tears as details of the pathologist's report on her son were read out at Nottingham Crown Court.
Jurors heard he died from extensive bleeding following a stab wound to his chest, between two ribs.
Witness Loman Osman, who had been driving along the street, said he saw Mr Akpom fighting with Hussain and Mr Hakim.
He said it was "two on one", that he saw Mr Akpom take a hit on the back and then his white top "had red on it".
The case continues.