Leicestershire patient transport: 'Urgent' improvement needed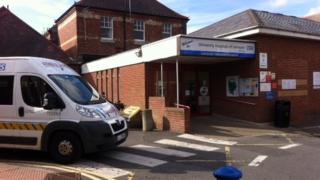 Urgent improvements are needed to tackle an "extremely poor" patient transport service in Leicestershire, Leicester's deputy mayor says.
A recent Care Quality Commission (CQC) report said Arriva Transport Solutions' service failed in three of five categories.
In one case, an 89-year-old woman waited 11 hours before she was returned home after a hospital visit.
Arriva said it was "absolutely committed to making improvements".
'Very frail'
Olive Burns of East Shilton, who was taken to Leicester Royal Infirmary after a fall, waited in the discharge lounge from 08:30 until 19:30 BST before she was taken to her care home, her son Alan Burns said.
"She is very frail... and is diabetic, and it was very stressful for all concerned. She was very confused and not at all sure what was going on and very disoriented," he said.
Leicester deputy mayor Rory Palmer said: "Too many patients are receiving an extremely poor service from Arriva Transport Solutions.
"This is yet another example of big, national companies winning lucrative NHS contracts up and down the country and letting patients down."
He said if Arriva did not improve its service within three months, it should pay a penalty or hand over the contract to another provider.
An Arriva statement said: "In the areas identified for improvement in Leicestershire, the CQC has assessed that the impact on our patients is minor or moderate.
"We are absolutely committed to making improvements."
The Clinical Commissioning Group for East Leicestershire and Rutland, which is responsible for the contract, said it had agreed new measures with Arriva to address performance problems.