Richard Mayne MH17 donations will help repair children's centre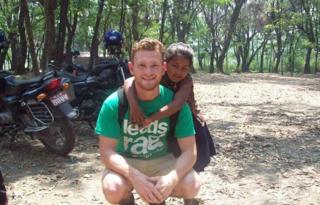 Money donated in memory of a victim of the crashed Malaysia Airlines MH17 plane will help repair a centre where he had helped children living in slums.
The centre in Nepal was severely damaged by flooding on the same day Richard Mayne died on board the flight which came down in eastern Ukraine.
Since then, people have donated money through his JustGiving page.
The Kidasha charity described donations in memory of Mr Mayne, who came from Leicestershire, as "poignant".
Back 'soon'
The charity's chief executive, Janice Miller, said: "Many of the children remember Richard very fondly, in fact one of our volunteers said, 'He was so warm and friendly towards the children, who all fell in love with him instantly'.
"They would literally follow him everywhere and would ask him, 'When will you come back again?'
"He simply replied with a smile, 'Soon!'
"The contents of our centre were sadly destroyed, but fortunately Richard's legacy and the amazing generosity of his friends, family and strangers will go some way to help replace them, which is particularly poignant considering his time spent there."
The JustGiving page has raised £5,533.88 so far, when his original target was £680.
Mr Mayne, 20, was among a group of students from the University of Leeds who trekked to Everest Base Camp in aid of Kidasha earlier this year.
After the trek, the group visited some of the charity's projects.
Ms Miller said Mr Mayne was "one of the most enthusiastic and caring of the group", and spent time organising art activities and games with children attending the drop-in centre.
The centre provides education and training for children living in slums in and around Pokhara, Nepal's second largest city.
As well as damaging the centre, the flooding destroyed 18 homes.
"Fortunately there were no human casualties, thanks to an extensive rescue operation by local police," said Ms Miller.
She said the charity hoped to work with the university again "to ensure that Richard's memory lives on through future events".