Antoin Akpom murder: Abdul Hakim denies joint enterprise murder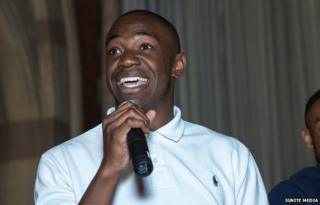 A man has gone on trial accused of murdering a sports coach in Leicester, despite another man having been convicted of stabbing the victim.
Jurors were told that although Adbul Hakim had not stabbed Antoin Akpom, the murder was a case of joint enterprise.
A group of men attempted to take revenge for Mr Akpom's death by setting fire to the home of Mr Hakim's mother.
However, four members of the same family were accidentally killed when the men set fire to the wrong house.
Richard Latham QC, prosecuting, told Nottingham Crown Court there had been "bad feeling" between Mr Akpom and Mr Hakim.
"There had been problems between the two men it seems for going on for about a year," he said.
"As a witness said, 'I just think they didn't like each other'."
Mr Akpom, 20, was stabbed in Kent Street on 12 September.
The jury heard the trouble started when he got out of a car and had a verbal exchange with Mr Hakim and a man called Hussain Hussain as they walked along the street.
He was then driven to a nearby gym and ran back a couple of minutes later with a dumbbell and around nine men, the court heard.
He got into a fight with the two men, the court heard, was stabbed by Hussain and later died in hospital.
Hussain has been convicted of murder, but Mr Latham said: "We allege that this killing was the product of joint enterprise, involving not only Hussain but also this defendant."
Mr Hakim denies murder.
Eight men have been convicted in connection with the fire that killed four members of the Taufiq family, the court heard.
The case continues.